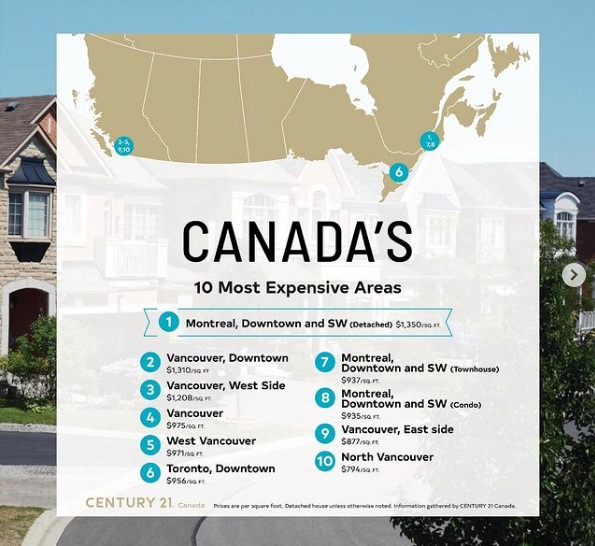 A new survey by Century 21 Canada has revealed the most expensive areas in Canada in terms of property price per square foot and a Montreal area is at the very top of the list, even beating out parts of Toronto and Vancouver.
According to the survey, the area encompassing downtown Montreal and Montreal's Sud-Ouest has the highest-priced detached homes in the country, costing $1,350 per square foot. Century 21 says the price of a detached house in Montreal's downtown and Sud-Ouest rose 41% between 2020 and 2021.
In second place was downtown Vancouver, where detached homes cost $1,310 per square foot, followed by Vancouver's west side, where detached homes go for $1,208 per square foot.
Downtown Toronto condos were the sixth most expensive properties on the list, amounting to $956 per square foot, according to Century 21.
But Montreal wasn't just named in relation to its detached homes. Montreal's downtown and Sud-Ouest area also made the list for the price of its townhouses per square foot and condos per square foot.
The area's townhomes were seventh most expensive in Canada at $937 per square foot and the condos were eighth-most expensive at $935 per square foot.
"Montreal saw affordable prices for many years, but people saw the value in this city and the cost of a home is now on par with other major cities in the country," said Mohamad Al-Hajj, owner of CENTURY 21 Immo-Plus in Montreal.
Century 21's "price per square foot survey" also lists the 10 least expensive Canadian cities. No Quebec cities made the cut, and the list consists entirely of cities in the Maritimes, Newfoundland and the Prairies.
Source: https://www.mtlblog.com/montreal/montreal-ranked-most-expensive-canada-homes-sq-ft