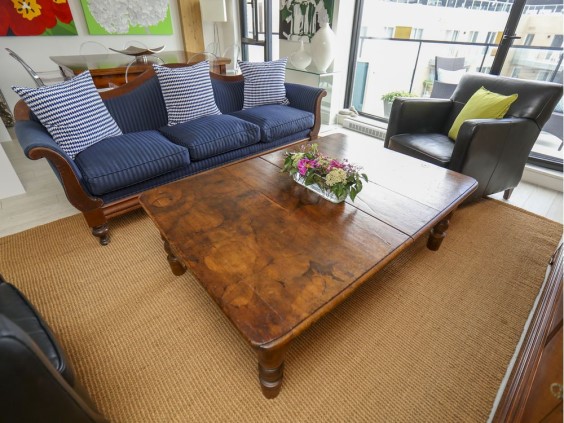 Today, people are getting more practical when it comes to choosing a place to live in as they age gracefully. Take for instance the couple Keith and Susan Porter, who in their late 50s decided to downsize their home. This British couple got married in the United Kingdom and migrated to Canada in 1996 with their young children. Their first home was large for a family of four, until such time that they opted to downsize as their kids were grown up. As they were downsizing, they rented a large apartment in Côte-St-Luc and then downsized again when they face the reality that their kids will be living away from them. Their son moved to Ottawa and their daughter to Australia. The first thing that came to their mind was to live near the heart of the city.
Susan, a plain housewife is a successful painter, whose works need a well-lighted place which was lacking in their former apartment. Her husband, Keith, a part-time teacher at Concordia University and chief information officer of an investment firm wanted to lessen his time in commuting to work.
Finding the Ideal Apartment for Downsizing
The Porter couple was not happy at their apartment and they kept on searching where to find the ideal place since the early months of 2019. It was in June of the same year that they found what they were looking for; a 950-square foot rental apartment located in Griffintown. The apartment is housed in a medium-rise complex building with condo blocks. The couple chose to stay on the eighth floor as the place answers their needs. It is super-functional with its open-plan kitchen, living and dining areas rolled into one.
The apartment has two bedrooms with a beautiful balcony perfectly set at an angle to get the maximum lights in, which is important for her work as a painter.   Having plenty of light is one of the qualities that the Porter couple would want for their new home. Here are some perks of their apartment:
Floor-to-ceiling windows
Bright and open interior that does not block the sun even if facing north.
Open-plan layout
Five minute walk to work and basic services.
Getting Rid of Furniture in a Smaller Apartment
As they downsized, the Porter couple cleared out most of their stuff, especially those from their home country, the United Kingdom, such as wood chest of drawers. Instead, they replaced them with functional furniture like their Empire-style sofa from an antique dealer in Hudson, which blends with Susan's traditional taste and Keith's contemporary taste. Their coffee table was purchased from Finnegan's Market in Hudson.
Susan loves funky vibes when it comes to matching their furniture like the vintage dining table with the transparent ghost chairs. She opted to use a giant floor mirror with a fancy frame that leans against the wall at the kitchen end to create an illusion of big, and a reflection of their white kitchen island and countertop. In fact, Susan painted the kitchen to have more light.
The apartment is surrounded with large-format paintings and artworks in most rooms, which are typical of Susan's paintings, mostly big and colorful acrylics with some floral theme. A portrait of Soviet leader Joseph Stalin is visible in the guest room that also serves as a small home office. It was their son who painted it when he was 16 years old.